Loving the breed since 1992.
"The future is purchased by the present."
Lee Petering of AUSTRALIA

Here are my beautiful girls ... Kaede, Tyla and Nova from left to right.
Lee with Kaede, Tyla and Nova 30th May 2007
My love of the Weimaraner started in the late 70's
but it was not until 1992 that I had the joy
of owning my first Weimaraner JAZZ.

Since then my love of the breed has only grown.

I only breed occasionally.
My dogs are not kennel dogs they are first and foremost members of my family. I don't aim to breed the most
or win the most shows - I aim to enjoy the Weimaraner.
Site updated Nov 17th 2008.
KAEDE at 2.5yrs of age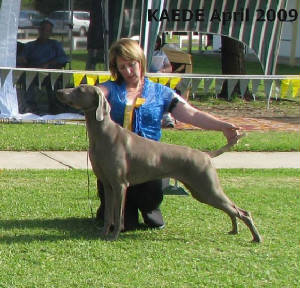 10th April 2009 - photo by Bromhund Knls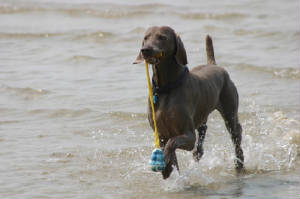 SHADO enjoying the beach Dec 2006
Nova, Lee & Tyla - Jan 2006 - 90 mile beach
Have you enjoyed this site? Please email me at
marland_weis@yahoo.com.au
If you have questions regarding the Weimaraner I am happy to help you.
Lee Petering ~ 0408 38 50 38